Finding the perfect Valentine's gift for the special woman in your life can be a challenge. But look no further! We, a group of small independent businesses, have pulled together a wonderful selection of unique gift ideas that are sure to tickle your fancy, and hers too!
From cards and candles to jewellery, clothes and accessories, we've got you covered. Keep reading for our Valentine's Day gift guide!
What to consider when choosing a gift
Valentines day has been the de facto day of love since the 14th century. So when finding the perfect gift, remember to give from your heart. But a little thought will also go a long way. Think about what your love enjoys doing, hobbies and interests. Do they like to relax with candles or incense? What do they like to wear? In the case of jewellery, are they a simple studs person, or are they dangly and daring. Once you have a good understanding of their preferences, you can pick out the perfect gift. Another consideration is the type of gift you want to give. Would they appreciate something sentimental, like like personalized jewellery or maybe art? Or something practical, like an outdoor activity or cooking class? Finally, take your budget into account before starting your search. You can quickly narrow down your options and find a great gift without overspending.
Enough chatter, here's the Valentine's Gift Guide!
18 Unique Gift Ideas
1. Gold & Silver Petite Organic Flower Earrings from Inari Designs £95
Inari Designs is a sustainable jeweller working with recycled and Fairtrade gold and silver as well as using reclaimed, sustainable and responsibly sourced gemstones. They make limited edition and bespoke jewellery to complement your style.
These petite earrings one of a kind earrings are made with pure silver and 9ct gold. They have been "torch sculpted" to resemble organic flowers, but these flowers will last a lifetime. Fully hallmarked and presented in eco friendly packaging and ready to gift
Support this small business via:
Website | Instagram | Facebook
2. Alphabet Dating – an A-Z of date ideas from The Kids Press Company £15.99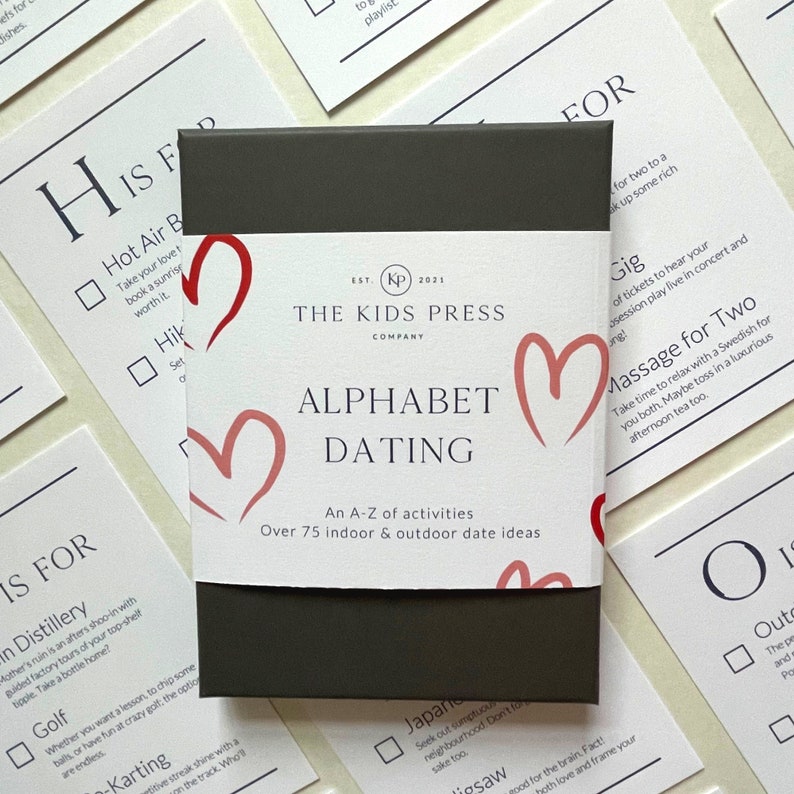 The Kids Press Company is a luxury stationery brand creating beautiful products to celebrate family milestones. From penning a note to congratulate a family on their new bundle of joy to sending a new mum a note on a day when she needs kind words and acknowledgement the most, the twin sister team wants each and every design to spark joy.
These alphabet dating cards that can be personalised for that personal touch include 3 activity suggestions and prompts that are perfect date night ideas and make a great gift for her this Valentine's day as it allows you to create memories for you both to share together.
Support this small business via:
3. Rhubarb & fresh mint 8oz jar candle from And Hope Designs £14.50
Using hand lettering, watercolour and digital illustration, Anna from And Hope Designs makes elegant yet fun cards, prints, journals, tea towels, candles and gift wrap to bring joy, as well as commissioned paintings for an extra special gift perfect for that big occasion.
This soy wax candle is scented with rhubarb and mint hand-poured in an amber glass jar- perfect for a romantic evening and brings a heavenly scent of a still summer day in the garden.
Support this small business via:
Website | Instagram | Facebook | Pinterest | Twitter
4. Pink Catnap Sleep Mask from Just Add Style £35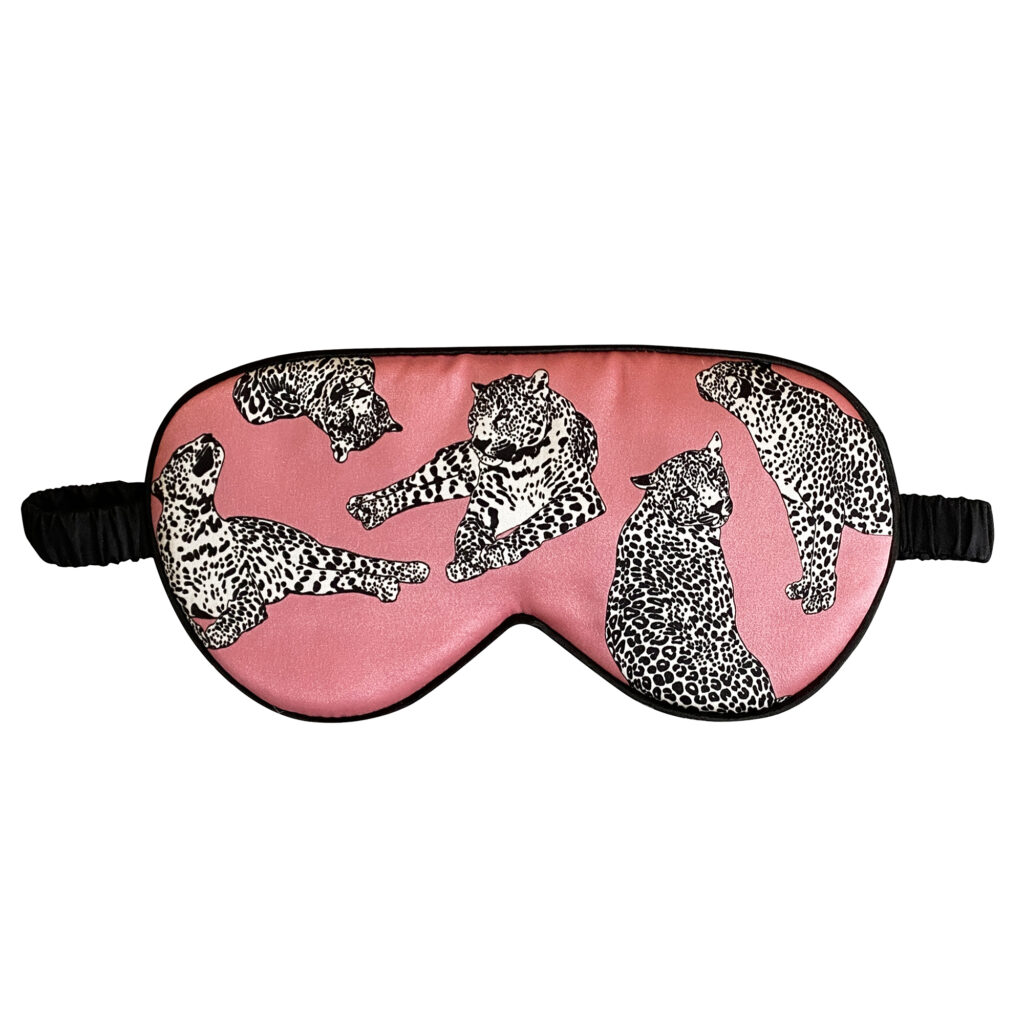 Just Add Style is a creative collaboration by award-winning fashion illustrator Emma Cowlam and accomplished graphic designer Lisa Kew, creating limited runs of luxury silk scarves and sophisticated stationery featuring unique hand-drawn illustrations.
Whether at home or travelling, their luxury silk sleep masks can help you drift off in luxury.
Just Add Style's light pink 'Catnap' mask is adorned with hand-drawn leopards on one side backed by leopard print on the other so wear whichever way takes your fancy.
Their masks are carefully crafted from the finest silk satin, 100% silk fibre filling and an elastic silk-covered band for a soft but snug fit.
Support this small business via:
Website | Instagram | Facebook | Pinterest | Linkedin
5. Red Clutch Bag from Sew Sofia £35
Insert Image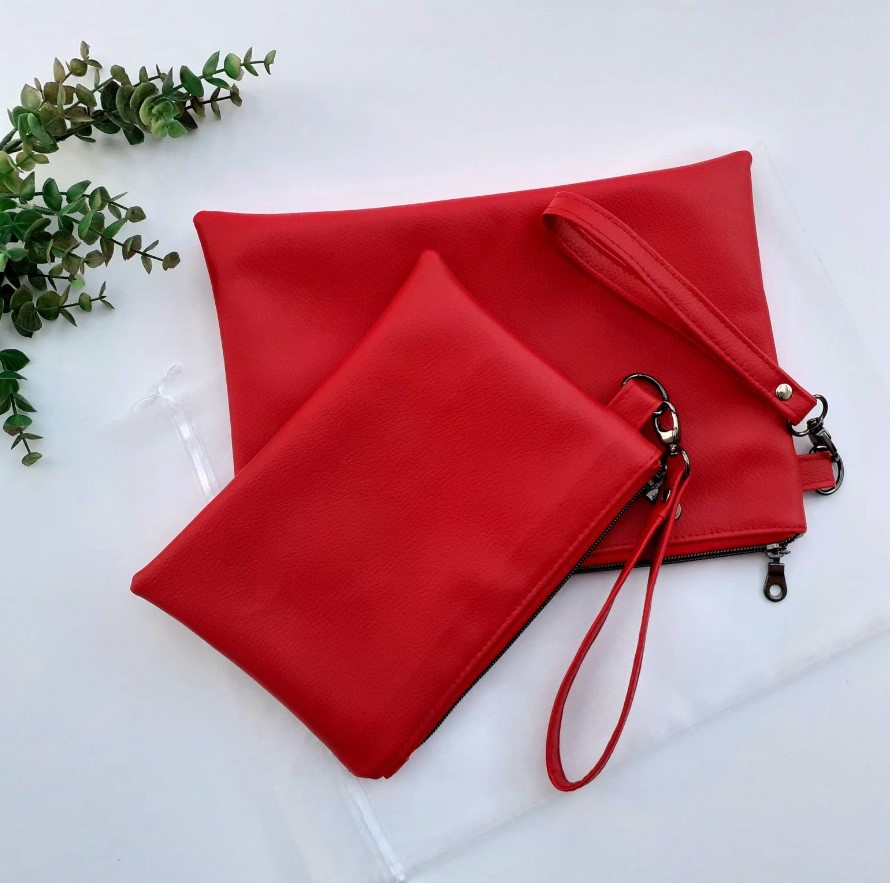 Sew Sofia makes bags and accessories in eye-catching designs and functional fabrics including faux leather, cork and laminated organic cotton (an eco-friendly alternative to oilcloth).
This gorgeous lipstick red faux leather clutch bag is perfect for transforming your true loves outfit by adding a pop of colour! The outer fabric has a smooth texture, and matte appearance and is wiped clean. The clutch bag has a wristlet strap and is lined in a bold floral print in luxurious cotton sateen. The zip pull and strap hardware are in chunky bronze metal.
Support this small business via:
Website | Instagram | Facebook | Pinterest | Twitter
6. La Rosée Glass Candle from Louis & Co Maison £28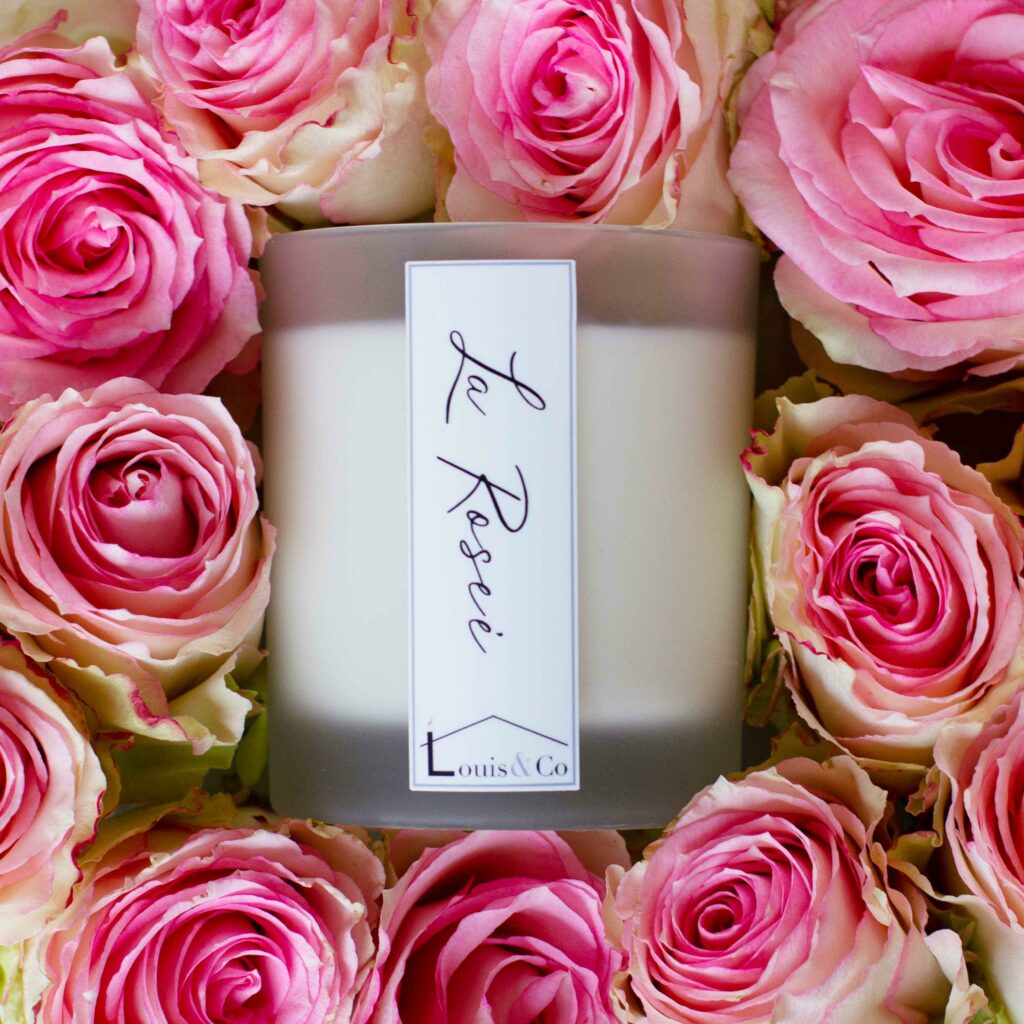 Louis & Co Maison are inspired by the French Riviera & handmade their products in Hampshire created by Lea & George, a French-British couple. Their aim is to create a brand that encapsulates their personalities: the love of giving, hosting and enjoying life.
La Rosée (translates to The Dew) is a classic, subtle yet rich Rose scent. One of Louis & Co Maison personal favourites and is their go-to candle to burn at home. You will find that it is not your usual fragrance – it is so much more delicate and classier than any rose scent you've come across before which means that this is the perfect scent for the bedroom.
Support this small business via:
Website | Instagram | Facebook | Pinterest | Twitter
7. "Lexi" Checkmate Wine & Black Heart Studs from Created By Lau £10
Based in Yorkshire, Created By Lau offer handmade, unique one-of-a-kind jewellery and accessories using Fibre Textiles, Resin, Polymer Clay and Jesmonite.
Laura, the maker and creator takes pride in the fact that she only makes small batches, which means that not only is it better for the environment because it is not mass-produced, but also that every piece she creates is unique to the owner. No more going out and meeting someone that is wearing the same thing as you!
These heart-shaped studs made from wine-coloured polymer clay with a black heart checkerboard detail design printed on them are the perfect valentine's gift to say I love you! These cute studs are a classic which can be worn throughout the year and will be a wonderful reminder of how much they mean to you!
Support this small business via:
Website | Instagram | Facebook | Pinterest
8. Love Story Scrapbook from Scrappy Doodles UK £20
Scrappy Doodles UK sells handmade gifts and home decor. Scrapbooks are their best seller in the gifts department and can be personalised if required. They make the best sentimental gifts that are perfect for Valentine's Day Gifts.
This stylish, eco-friendly scrapbook is the perfect place to keep your love story!
It is perfect for scrapbooking lovely memories of you and your loved one and giving them as a special gift.
Support this small business via:
9. The Love One Unique Milk Churn Candle®️ – Red Roses from The Cattleshed Candle Company £15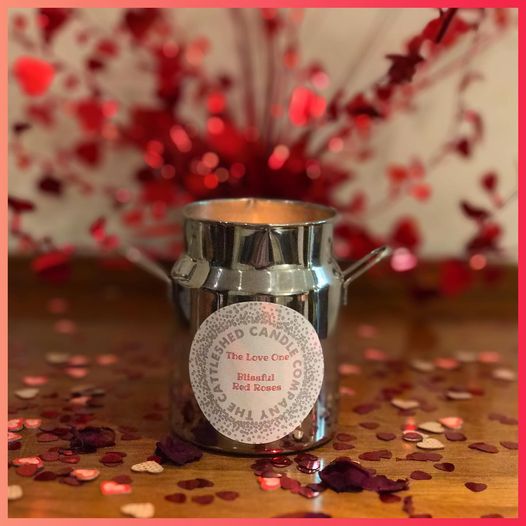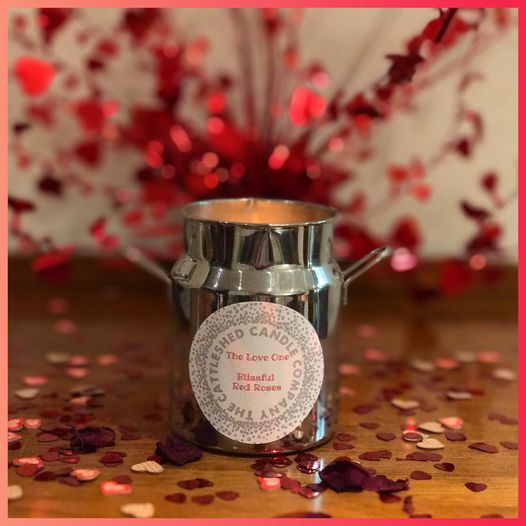 The Cattleshed Candle Company makes unique Milk Churn Candles®️. Sustainable, refillable or repurposed candles using eco-soy wax and the finest fragrances.
The Love One – Red Roses is a hand-poured candle that smells like a huge blissful bouquet of long-stemmed, intensely fragrant red roses and is the perfect gift that will last much longer than fresh ones.
Support this small business via:
10. Embossed Floral Hand Painted Necklace from Abby's Art Atelier £10
Abby's Art Atelier makes one-of-a-kind jewellery using polymer clay and resin and utilising mixed media techniques.
This soft and subtle pink embossed floral pattern into this necklace has a beautiful and chic look and feel. Abby has hand-painted the embossed lines to create a beautiful bright spring effect. This necklace is stunning and sophisticated which makes the perfect gift for that special person in your life.
Support this small business via:
Website | Facebook | Instagram
11. Sloth Valentine's Day Card from Bamber Prints £3.50
Bamber Prints offers minimalist illustrations with a touch of playfulness, all drawn by Catherine using lots of little dots. Available to buy as cards, prints and more using sustainable materials.
This cute sloth card with the message "I Love You This Much" is made from a 100% recycled card and includes one recycled kraft brown envelope.
Support this small business via:
Website | Instagram | Facebook | Pinterest
12. Silver Hammered Heart Studs from Anna Calvert Jewellery £25
Anna Calvert makes jewellery from recycled silver and gold that you can love and wear every day.
These Sterling Silver Hammered Heart Studs feature an understated, perfectly formed heart with a stunning silhouette that's reminiscent of luxury. Handmade to slot seamlessly into your everyday jewellery line-up, this silver pair of earrings fit with other coordinating styles for an effortlessly elegant look that's perfect for both day and night dressing. Created from hammered and polished recycled sterling silver, they're beautifully simple.
Support this small business via:
Website | Instagram | Facebook | Pinterest
13. Red Heart Lavender Sachet from Naila Ahmad LONDON £10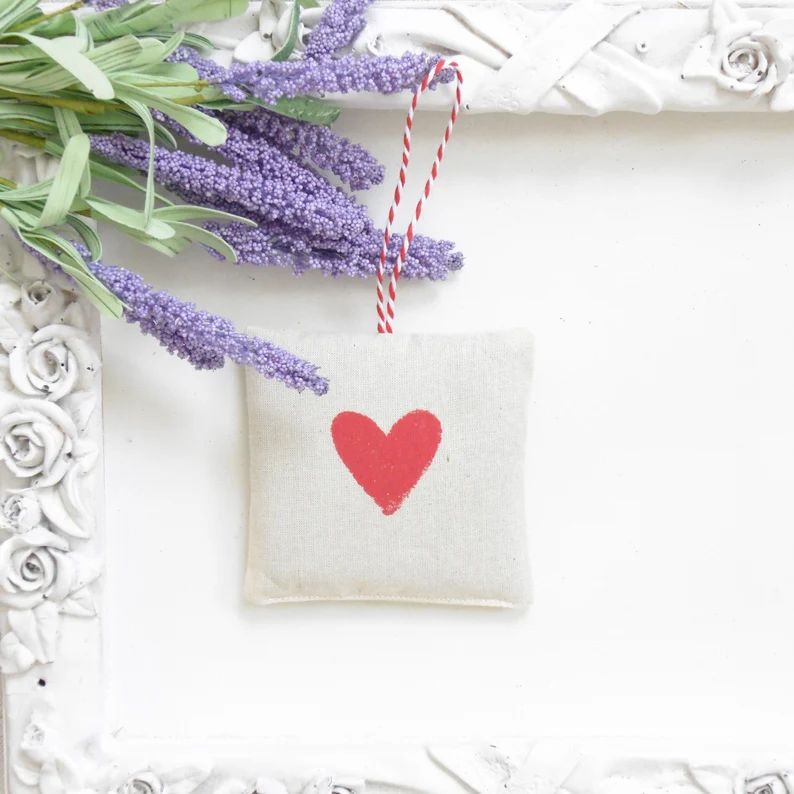 Naila Ahmad is a textile artist since 2016 and works with the traditional art of block printing. Her designs are printed on Scarves, Kimonos (some made with retro fabrics) tote bags, purses, lavender sachets and eye pillows.
This is a handmade and hand printed 4 inches square sachet, made in 100% cotton unbleached calico fabric. It can be hung with a loop. It is generously filled with approx. 40-50 gm of dried English lavender. It will keep on giving you fragrance for years and is perfect for any fashionista's wardrobe.
Support this small business via:
14. Copper Heart on Silver Circle Necklace from Zoe Ruth Designs £40
Zoe Ruth designs and handmakes jewellery with sterling silver, copper and semi-precious stones, inspired by nature around us.
This beautifully textured copper heart nestled on a sterling silver circle offers a romantic twist and is sure to be a new classic go-to for any stylish woman's jewellery collection.
Support this small business via:
Website | Instagram | Facebook
15. Handmade Wooden 'I Love You' Wood Slice Coaster Gift from Wooden You Love £8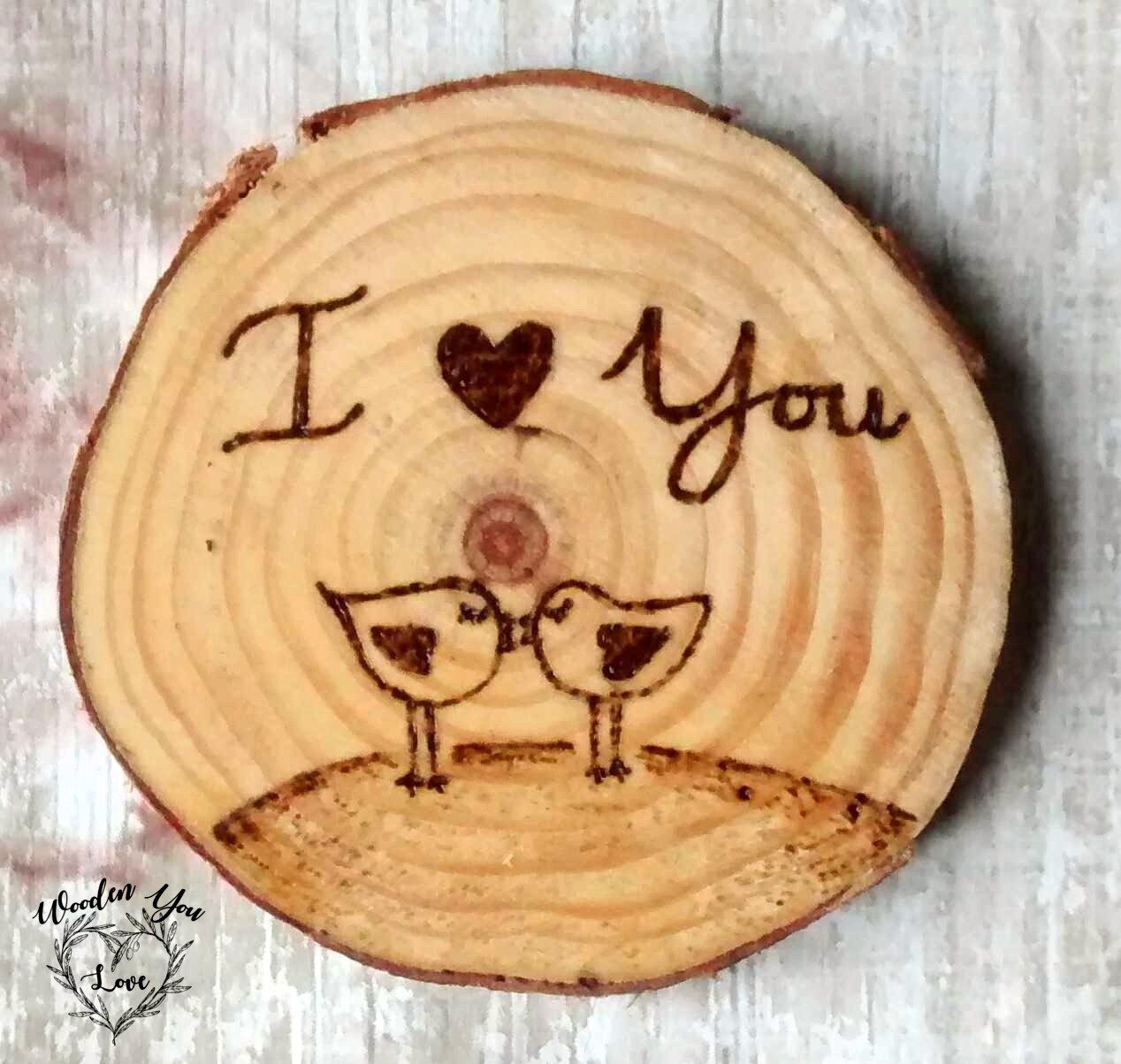 Wooden You Love makes hand burnt wooden gifts for all occasions. All of their pieces are created using Pyrography, so each piece is completely unique and handmade.
This hand burnt text and love birds design rustic wooden coaster will make a great gift for many occasions. They are handmade from real tree slices and finished with waterproof protection.
Support this small business via:
Website | Instagram | Facebook | Pinterest
16. Double Festival Silver Earrings from Eni Jewellery £67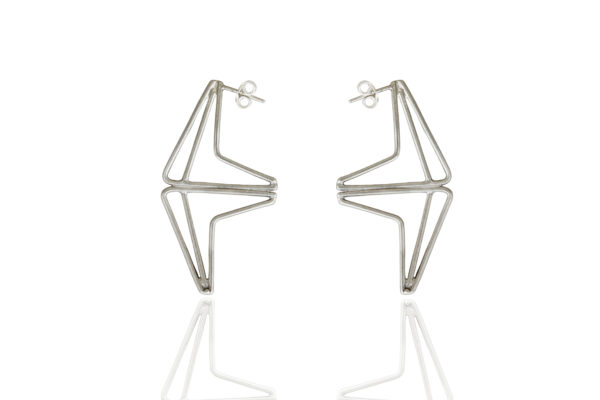 Launched in London in 2016, Eni Jewellery offers a new grunge. Our collections are aimed at the fashionable, modern woman who wants to express her individuality. Regardless of age or seasonal trends. Each collection is developed and designed by Eleni Koumara, expressing her distinctive and original style.
These sculptural double festival silver earrings make a unique statement triangle side way's earrings. Made from eco-sterling silver, are perfect for completing your love's everyday look and they come in a box and are ready for gift-giving.
Support this small business via:
17. LOVE Fitted Hoodie from Home Bird Crafts £40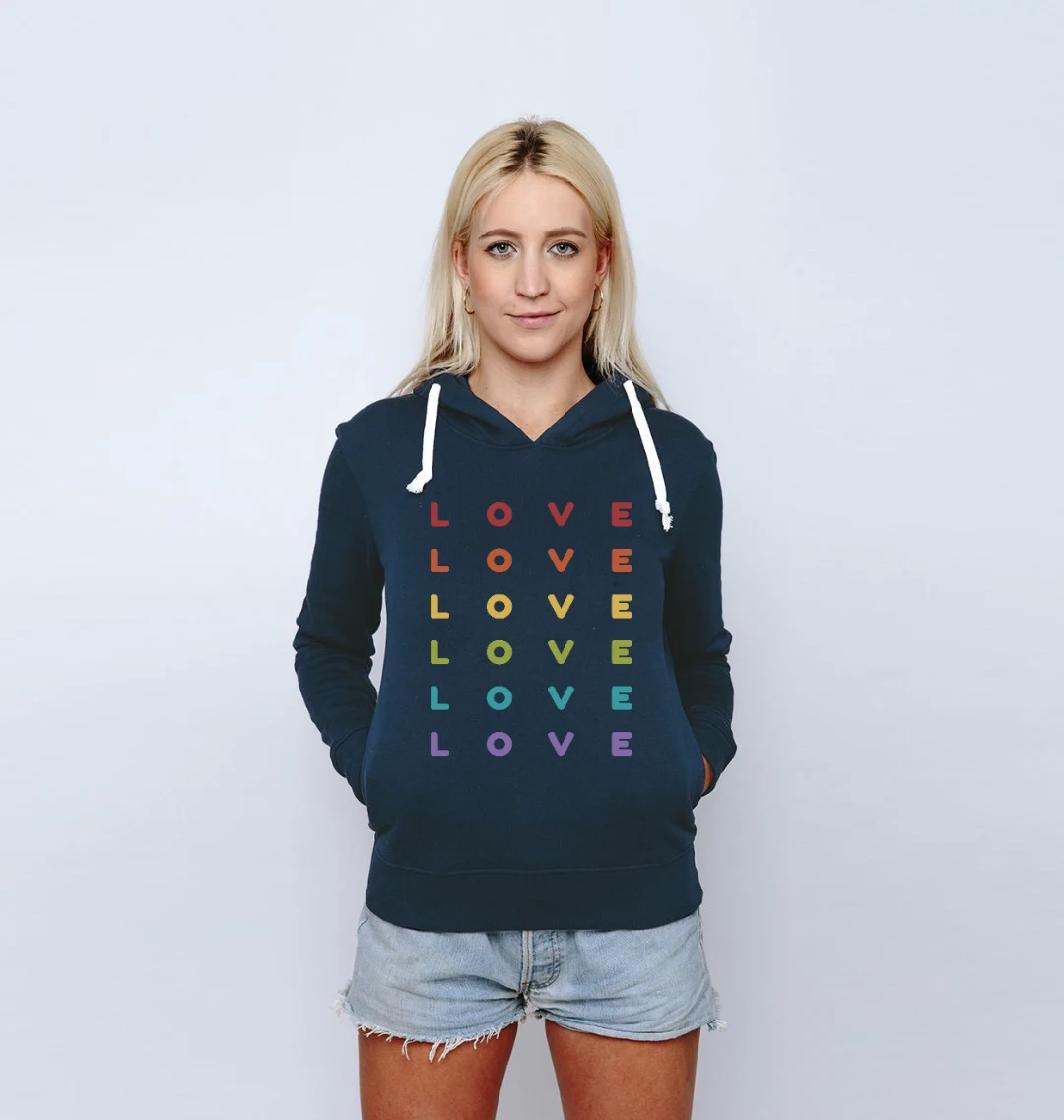 Home Bird Crafts upcycles preloved clothing and creates new rainbow-inspired sustainable items for the entire family.
This fitted hoodie with a love rainbow print on is bound to be a go-to piece that your love will use again and again. Made using certified organic cotton it is a sustainable option for anyone concerned about their carbon footprint.
Support this small business via:
18. Leather Heart keyring from Laura Jessica Design £8.50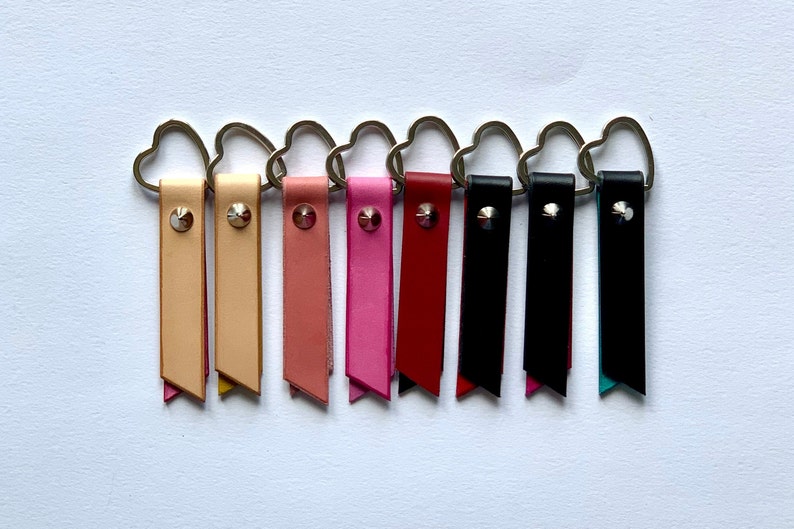 Laura Jessica Design hand makes small leather goods and accessories using traditional techniques. She uses a mix of vegetable-tanned leather, suedes and Nappa leather to produce lasting accessories.
Small but the perfect little gift that doesn't break the bank, this vegetable-tanned leather keyring makes a great valentine's gift for anyone you love. Made in a variety of colours by hand. A silver heart loop and cone stud finish each design.
Support this small business via:
Conclusion
When you're looking for the perfect Valentine's Day gift, don't forget a little thought will go along way. Finding the perfect gift doesn't need to tie you in knots. This list of 18 thoughtful and unique gifts would make any woman happy, so have fun choosing!